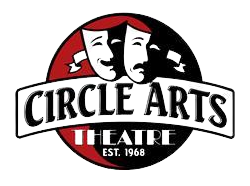 Volunteers Needed in
Every Area Of Theatre
What are you interested in? Building, Painting, Stage Managing, Running Lights or Sound? No prior experience needed. We are happy to train you. Just email us at circleartstheatre@gmail.com. If you already have expertise in these areas, then we're happy to pick up a new trick or two from you!
Volunteers Needed To
House Crew
Captain
You will greet patrons as they enter, open the door as needed and give them directions for the restrooms, ticket booth, concession or where they can enter the seating area. You will also be our go-to person if a problem should arise and to make sure everything on the checklist gets accomplished.
Tickets
Most tickets will be paid for in advance, but there may be some purchases at the door. The main part. Of the job will be to hand tickets to those that paid over the phone or those unable to print theirs. You will also be helping the concession person when needed (both pre-show and intermission).
Concession/Wine/Beer
You will hand out snacks and drinks. Everything is $2 and you will need to keep track of purchases on the iPad. Since alcohol may be served, you need to be 18 years or older. Wine & beer is complimentary, but please encourage donations. Always offer concessions as they enter the theatre.
Parking Lot Attendant (Summer Shows Only)
Please help save our patron's cars by handing out parking passes as they arrive. We recommend wearing a hat and sunscreen because you will need to be outside leading up to showtime.
Greeter/Usher
As we welcome back a fully seated audience, please help our patrons find their assigned seat, check the date on their tickets and hand them a program for the show.
What Should You Wear As House Crew?
Please wear slacks, nice shirts or blouses, dresses. We ask that you not wear flip flops, shorts, or t-shirts. We want to look professional.
We do ask for the House Crew to help us clean up after the shows.